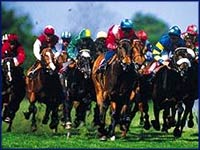 Suspense at its best

is offered by the Rennwiesen, the horse race course embedded in a spacious and scenic park landscape. Up to 10 racing events are scheduled here every year which promise to deliver all the excitement and suspense you could ask for on one of the most beautifully located race courses in Germany.
The Magdeburg Renn-Verein association will celebrate its 100th anniversary in 2006. The events hosted by the club are of national importance and are being broadcasted worldwide. Horse riding is offered by the Reitsportzentrum and the Reit- und Fahrverein in the Herrenkrug area.
Saddle up and take advantage of the different options offered by the two clubs.
More Information:
Renn-Verein
Herrenkrug 4

tel.:+49 (0) 391.852 00 -54 or -56