Family Life
In Magdeburg it's easy to work or study even if you have children. Because in Saxony-Anhalt – and therefore in Magdeburg too – children have a statutory entitlement to the care and support of a childminder or nursery (in German: Kita) from the time they celebrate their first birthday. This means that until they start school, children have an unrestricted right to supportive day-care. At primary school, they can be cared for in the afternoons at after-school facilities (in German: Hort).
Magdeburg has many different kinds of school available. Whether your child attends a state school run by the city council or a private school, many types of educational setting are catered for and children can gain qualifications in a wide range of subjects.

Support
Parental allowance
Parental allowance is designed to provide financial support to parents who wish to look after their child themselves during the first few months of its life and who will suffer a loss of income as a result. It is available to mothers and fathers who are on parental leave and do not work for more than 30 hours per week. The financial assistance given amounts to about two thirds of the applicant's former net salary, but no less than Euro 300 and no more than Euro 1,800. If mothers and fathers split the parental leave between them, they are allowed up to 14 months in total, but one parent caring for the child alone may claim for no more than 12 months.
Foreigners from EU states have a fundamental right to parental allowance if they are living or working in Germany. Those who come to Germany from a third country either need a settlement permit or must have already worked in Germany in the past.
How and where do I apply for parental allowance?
You must apply for parental allowance in writing. You should submit your application to the office responsible for paying this benefit (Elterngeldstelle) in your local area. You can download the application form from familienportal.de.
You do not need to submit your application immediately after the birth of your child. You should however note that parental allowance is paid in arrears for a maximum of only the last three months before your application was submitted. So you shouldn't delay for too long.
In Magdeburg, the office responsible for paying this benefit is the Sozial-und Wohnungsamt (Social Welfare and Housing Department).

x
Child benefit
Only parents and children registered in Germany and with a residence entitlement may claim child benefit (with the exception of students). Child benefit is paid until the age of 18, or 25 if the child continues in education or an apprenticeship. You will receive Euro 204 per month per child for the first and second child, Euro 210 per month for the third, and Euro 235 per month for each additional child.
x
Parental leave
Parental leave is designed to enable parents to care for their infant for an extended period of time after its birth and to take an unpaid leave of absence from work without being at risk of losing their job.
Parental leave is only available to employees with a German employment contract. The maximum period for which it can be claimed ends on the child's third birthday. Anyone who is unable or unwilling to stop work completely may continue to work for up to 30 hours per week during the period of parental leave, provided their employer agrees.

For additional information on parental leave, visit the government portal make-it-in-germanyny
For additional information on financial or other help for families, visit the family portal
x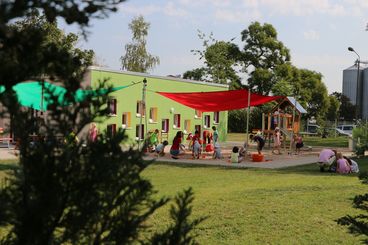 Childcare
In Magdeburg, family, career and study can co-exist successfully. Because in Saxony-Anhalt – and therefore in Magdeburg too – children have a ...
Mehr erfahren
Mehr erfahren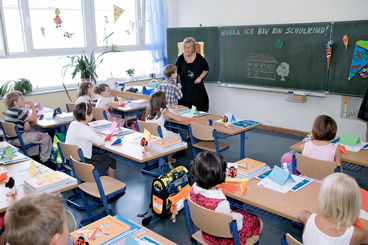 School
In Germany, compulsory schooling starts for children at the age of six. That is when primary school begins, where the children are taught basic German, mathematics and a variety of other subjects.
Mehr erfahren
Mehr erfahren
Leisure
Magdeburg offers families any number of leisure activities. Whether this means clambering and playing in one of the many playgrounds, trips to the zoo or the Elbauenpark, cycling or inline skating by the river, enjoying a picnic in one of the many parks, or visiting a puppet theatre or the museum: there's no excuse for feeling bored!