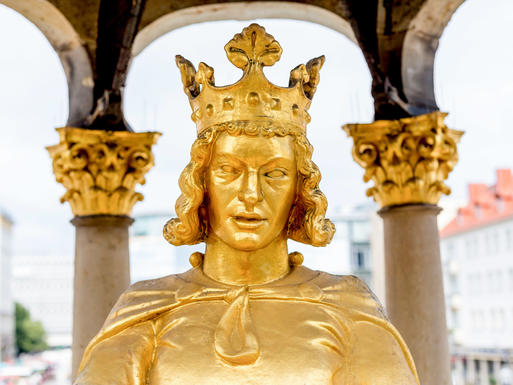 Otto the First was born on 23 November 912 as son and successor of Henry the First of Germany and his wife Mathilde. After his father's death, he was crowned king in Aachen in 936. Boldly developing the policies that his father had begun, Otto gave large grants of royal land to bishops and abbots and established a close alliance between the crown and the church.
Otto had a particular love for Magdeburg and continually returned to his favourite palatinate. His first wife Editha, an English princess, had received Magdeburg as a morning gift at their wedding (929/30). In 937, Otto founded a Benedictine monastery in Magdeburg and dedicated it to St. Maurice.
Editha died in 946 and was buried in the church of the monastery of St. Maurice. At the time of her death, Editha had left behind a daughter and a son, Luidgard and Luidolf. Otto married again shortly afterwards. He chose for his second wife the widowed Italian queen Adelaide. Adelaide, too, bore him two children, Otto (later Otto II) and Mathilde.
Otto was honoured with the epithet "the Great" when he defeated the Magyars in the battle of Lechfield in 955, and this victory temporarily restored peace at the Eastern border of his empire. In the same year, he arranged for the erection of a monumental cathedral on the site of the Moritz Church, the predecessor to today's Cathedral of Magdeburg.
Otto I himself was not able to witness the erection of his cathedral because he spent much time in Italy. There he attained the summit of his power. In 962, Otto was crowned Holy Roman Emperor in Saint Peter's Cathedral in Rome, together with his wife Adelaide. He was the first German king reviving the imperial title. In 972, the imperial couple returned to Magdeburg and in 973, on Palm Sunday, they celebrated the inauguration of the cathedral. It was both the first and the last time that the Emperor could celebrate his own cathedral with a procession. Otto the Great died on 7 May 973 in Memleben. According to old tradition, his heart was buried at the place of his death (in Memleben) and his remains were buried in a tomb in the Cathedral of Magdeburg.