The Emperor Otto Prize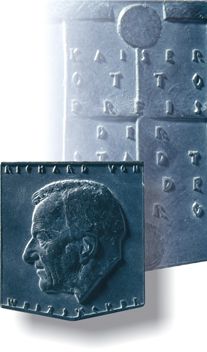 The Emperor Otto Prize is a medal which bears the profile of the respective Prize Laureate.
The City of Magdeburg awards the Emperor Otto Prize to commemorate the achievements of Otto the Great, and in recognition of individuals who have served the process of European unification, with particular focus on the states of eastern and southeastern Europe, and who have promoted the European idea.
"Now, in the early 21st century, it is more important than ever to remember the considerable contribution made by the Ottonian dynasty to early mediaeval German and European history from its power base between the Harz Mountains and the River Elbe. The 27th Council of Europe exhibition entitled 'Otto the Great. Magdeburg and Europe' demonstrated to its many visitors, an audience of eminent historians, and above all, the people of Magdeburg themselves, that the first Holy Roman Emperor of the German Nation – Otto I – will forever be linked with our city." With these words, Mayor Dr Lutz Trümper highlighted the importance and historic origins of the Emperor Otto Cultural Foundation at the ceremony marking its establishment.
The Emperor Otto Prize was awarded for the first time in 2005 to mark the 1200th anniversary of the city. On 7 May, next to the tomb of Otto I in Magdeburg Cathedral and on the anniversary of his death, the Emperor Otto Cultural Foundation presented the prize to Dr Richard von Weizsäcker, the former President of the Federal Republic of Germany. The prize committee was thus paying tribute to a politician who never tired of seeking dialogue between the two former German states and the power blocs of Europe, was highly committed to the achievement of peace and understanding, and helped shape German unity within a pan-European process.