Guided Zoo Tours
Magdeburg Zoo not only lets its visitors see, hear and smell an animal world full of different species, but also gives them the opportunity to observe the animals in the company of a professional guide.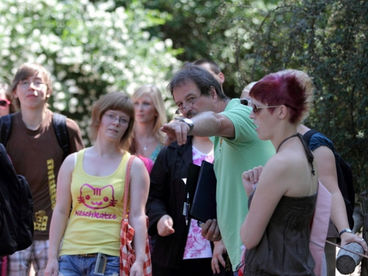 A guided tour of Magdeburg Zoo will not only increase your fascination with the world of animals, but also expand your knowledge of nature and species conservation.

The zoo offers guided tours for children and school groups, private individuals, clubs and associations or companies. The zoo guides adapt their tours to suit the age group in question and are happy to take your requests and interests into account.
• Guided zoo tours for children and school groups: 30 Euros
• Guided zoo tours for adults: 60 Euros
• Tour duration: 1.5 hours
• Maximum number of participants: 25
• Bookings: Please book tours 14 days in advance.
• Admission fees for the zoo are not included in tour prices.
• Special requests can be factored into tours by prior arrangement.
The "TIERISCH NAH" Arena
The "TIERISCH NAH" Arena contains a grandstand with 200 seats and gives visitors the opportunity to view the zoo's artistic animals in action.
During the presentation, which lasts a good 20 minutes, the animal trainers showcase the skills and abilities of animal stars ranging from alpacas through to gamecocks and right through to dwarf zebu in a friendly and entertaining show that also includes a number of small tricks and gags. They also reveal a multitude of "animal secrets" or take visitors on a journey exploring several record-breaking animal feats. The free presentation is topped off by a number of opportunities for the audience to experience the zoo's animal stars up close and personal.
Other "TIERISCH NAH" Highlights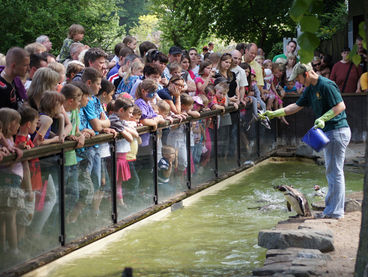 Visitors can come and enjoy the zoo's popular Humboldt penguin presentation every day at 3:30pm.
During the season, a number of different daily animal presentations and feeding sessions will be announced in the entrance area.
On Saturday and Sunday, visitors can also take a look in the pots and pans of the zoo animals. The opening times of the animal food kitchen are also announced in the entrance area.
Accessible Animal Enclosures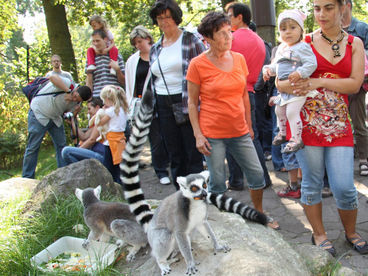 Visitors to the Angola guerezas, ring-tailed lemurs and eagle owls can also make the most of the opportunity to walk directly into the enclosures in order to take an even closer look at these selected animals.
The "TIERPFLEGE LIVE" Offer
Would you like to become a zookeeper for 3 hours?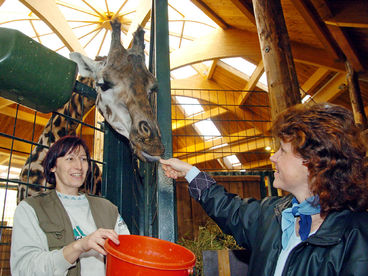 Magdeburg Zoo's "TIERPFLEGE LIVE" offer gives two visitors the opportunity to get close to their favourite animal(s) and help to care for it/them for up to three hours. Come and help the zookeepers with their day-to-day work and make the most of the chance to see your favourite animals in a completely different light.
This offer is available to visitors aged 16 and above. For safety reasons, the "TIERPFLEGE LIVE" offer is not available for the zoo's elephants and great apes.