Service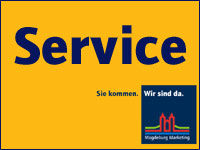 We would also like to know what you think about our website or hear about anything regarding Magdeburg. Please leave your comments in our public guestbook, or share your thoughts with other visitors. We look forward to reading your comments.

Our city map is designed to help you find your way around Magdeburg – a truly magnetic city. You can also check the map to efficiently plan your journey to Magdeburg.
The up-to-date press releases which are sent out for publication by the Magdeburg Marketing Kongress und Tourismus GmbH and other cultural institutions in the capital city. They usually contain a wealth of background information. If you wish to have a complete overview of this internet presentation, you can access our table of content link.
There is, however, much more to learn about Magdeburg than you will find on the Internet. If you would like to receive more information, we will be more than happy to provide you with various publications issued by the Magdeburg Marketing Kongress und Tourismus GmbH. Just access the publication link, tick the respective boxes and we will send you the desired brochure(s).
weiterlesen »
weiterlesen »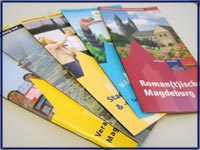 weiterlesen »