Water saving lock and ship lift Rothensee
The Rothensee water saving lock was the first building of the ambitious Waterway Junction project which was put into operation on 21st May 2001.
The facility is designed as a water-saving lock, i.e. 60 % of the water remains in the three locks whereas only 40% of the water is pumped back into the canal for downward lockage. Hence the name "water saving lock" for a facility designed to "save" 60% of the lock water.
The Rothensee facility also includes a roofed platform, located 13m above the water level of the Mittelland Canal, which is open to visitors and offers a great view of the lock in operation with a lockage time of 30 minutes.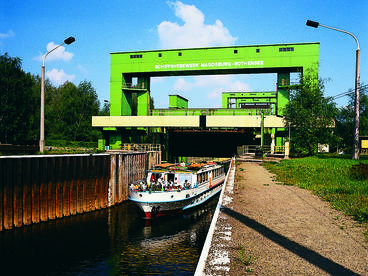 The ship lift has been in operation since 1938 enabling vessels and ships to continue their downstream journey from the Mittelland Canal to the Magdeburg port and the Elbe by passing through the water-filled lock chamber with its 5400 ton capacity. The Rothensee water saving lock has a lifting height of 11 to 18m, depending on the water level of the river Elbe. The lock chamber itself is 85m long and 12m wide with a depth of 2.5m. These dimensions are however not large enough for today's huge cargo vessels to pass through. The entire lockage times takes up to 40 minutes including entry and exit of the ship or vessel.
A visit is always worth your while since you can see for yourself the rapid development of water transport technology from the old ship lift, now a historical and technical monument, to the state-of-the-art water saving lock.
Technical details of the water saving lock:
Usable length: 190m
Usable width: 12.5m
Operation of the upper gate: flap gate
Operation of the lower gate: miter gate
Lifting height: 10.45 - 18.46m
No. of locks: 3
Pump system: 5 pumps with a performance of 3.5 m³/s each
Lock opening hours:
Water saving lock
from Mon

6am

to Sat
(continous operation)

10pm

Sundays, bank holidays

7am to 7pm
Technical details of the ship lift:
Usable length: 85m
Usable width: 12m
Lifting height: 10.45m – 18.46m
depending on the water level of the Elbe
Depth (trough): 2.58m
Dimensions for operation: 82m x 9.5m x 2m
Capacity of 5400 tons
Ship lift opening hours:
Ship lift
May - October
Mon-Sun

8.30am – 6pm

November - April
Mon-Sun

8am -4pm
Quelle: 03